Description
OB1, The Original and Best combined adhesive and sealant on the market.
Available in seven colours and completely paintable OB! construction adhesive and sealant bonds all metals even lead, plastics including PVC & GRP and more including glass, mirror, polystyrene, fibreglass & wood. Works in water. Features zero VOCs. 
WHY IS OB1 SO INCREDIBLE?
Excellent Chemical Resistance
Resists Fungal Growth
Weather Resistant
Exceptional Tolerance to Vibration
Food Safe Conforms to ISEGA Standards
No Solvents or Isocyanates
Does Not Shrink
Paintable
Unique Flexibility
Environmentally Compliant
Works in Wet or Dry Conditions Including Salt Water
Ideal for a variety of household and construction applications including:
BONDS ALUMINIUM & WOOD
Depending on its moisture, softwoods and hardwoods expand and contract constantly, and some more than others. Aluminium expands and contracts in accordance to temperature. OB1 will maintain its robust bond when cured from -40°C to +120°C and therefore is able to cope in harsh external weathering conditions and in a refrigerated environment. Its bond has the ability to elongate up to 350%
FOOD SAFE FORMULA
OB1 conforms to ISEGA Standards so it is the perfect solution for use in kitchens and food preparation areas. OB1 bonds & seals marble, granite and quartz worktops in kitchens plus it's guaranteed not to attack or stain surfaces.
MARINE & POOL SEALANT
The original formula makes OB1 the ideal sealant for under water applications even resistant to saltwater. Its hybrid polymer formulation can be applied under water and retains its initial bond. It also acts as a structural underwater bond in closed-face applications in swimming pools such as floor and wall tiles without the need to drain the pool.
CARBON FIBRE, FIBREGLASS & GRP
For instant repair or bonding with carbon fibre materials, fibreglass and GRP, this all-in-one sealant, adhesive and filler is all you'll ever need. OB1 withstands vibration.
PLASTIC TO METAL & STEEL
The original solvent free hybrid polymer formula used in OB1 allows flexible adhesion that can move with the expansion and contraction of metal and steel without etching or burning the surfaces. For polypropylene and polyethylene contact manufactures technical services.
ENVIRONMENTALLY SOUND
OB1 contains no solvents or isocyanates resulting in an A+ rating for air quality. It is odourless and kind to the environment as well as being safe for use in residential, domestic and industrial applications.
SOLAR PANELS
Typically solar panels are installed with mechanical fixings drilled into the roof substrate. They are sealed with silicone mastics which contain a solvent base. The solvent will eventually evaporate causing the mastic to collapse hence the seal/bond line failing. OB1 does not contain any solvents so it will never crack, shrink or collapse, creating a permanent seal/bond. In addition it has a high resistance to weathering.
MIRROR ADHESIVE
OB1 original formulation has no solvents or isocyanates so it will not degrade the back of mirrors. It also has an exceptionally strong initial grab. Depending on size and weight of mirror in most cases OB1 does not require additional fixings while curing.
SUPERIOR FOR BATHROOMS
OB1 features Zero VOC's (volatile organic compounds) so it cures absolutely solid with no holes – unlike other sealants where bacteria can breed resulting in mould. OB1 never shrinks or cracks.
BONDS & SEALS LEAD FLASHINGS
Perfect for roofing applications,OB1 seals, grips and fills lead flashings to stone, brick and felt – even in the wet!
FIX LEAKING GUTTERS
Gutters leak when the EPDM Seal degrades from exposure to the elements. Silicone sealants are often used to repair the seal, but the surface has to be dry first. Solvents within the sealant will evaporate causing it to shrink and collapse on the seal/bond line resulting in failure. OB1 performs flawlessly even when applied under water, doesn't contain solvents, so therefore will never shrink or crack. It's the perfect repair for leaking gutters.
GARDENING REPAIR
OB1 the multi-surface garden repair product fixes your terracotta, ceramic, cracked concrete, slate and even broken pots and planters whether dry or wet. Repair garden pond ornaments even under water.OB1 the total garden ornament repair product.
Specification
Size: 290ml
Colour: Black
EAN: 5032822004374
SKU: 998004531

Get more Information on this item
Call us
Speak to our friendly sales team on: 0161 485 1309
estimated tracked shipping for this item:
£4.45
Order before 2pm (Mon - Fri) for same day dispatch.
Independent and family owned since 1936.
We do not store or access your payment information.
FREE shipping on orders over £50 within Mainland UK*.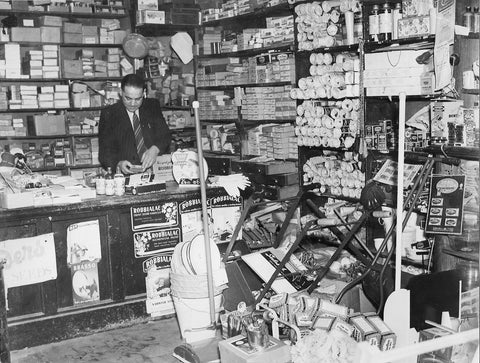 What our customers say
What a fantastic family run business. They have everything you could want in the DIY and home improvement line including knowledgeable advice. I enjoy my trips there, knowing I'll get what I want accompanied by good value. If all shops were like this the high street would be booming.
This is a little gem - anything that you might need - they will probably have it. Also I found most of the items to be reasonably priced and decent quality.
This place is the original Aladdin's cave - a huge range, everything you ever need for the house and home, with friendly and knowledgeable staff who can't do enough to help. It's a pleasure to shop there, and that comes from someone who really dislikes shopping!
Choosing a selection results in a full page refresh.
Opens in a new window.